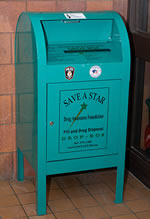 Drop Off Location
Prescription and OTC drugs can be dropped off 24 hours a day at the Zion Police Department, 2101 Salem Blvd, Zion, IL 60099.
Prescription Drug Abuse Problem
Most people take medicines only for the reasons their doctors prescribe them. However, an estimated 20% of people in the United States have used prescription drugs for non medical reasons. This is prescription drug abuse and it is a serious and growing problem.
The availability of drugs is one reason why prescription drug abuse is increasing. Doctors are prescribing more drugs for more health problems than ever before. Online pharmacies make it easy to get prescription drugs without a prescription, even for youngsters.
Improper Disposal
Disposing of drugs through the water method (e.g., flushing them down the toilet) can cause environmental damage and simply throwing them away is no guarantee that animals, or people, won't come in contact with them.
Collection Box
Medicines should be placed in the sea foam green collection box (which looks like a mailbox), where they will be securely held until being turned over to the DEA for destruction.
Acceptable Items
Acceptable items are:
Homeopathic remedies
Liquid medication in lead-proof containers
Medicated ointments, lotions, creams, and oils
Medication samples
Over-the-counter medications
Pet medications
Prescription medications, including controlled substances
Vitamins and supplements
Unacceptable Items
Items not being accepted:
Bloody or infectious waste
Empty containers
Hydrogen Peroxide
IV bags
Needles/sharps
Personal care products
Syringes with needles
Thermometers
Additional Information
Drug Take-Back Day is a great opportunity for those who missed the previous events, or who have subsequently accumulated unwanted, unused prescription drugs, to safely dispose of those medications.