The Zion City Clerk's staff is firmly committed to serving as your "front-line" interface with local government. We pledge to be ever mindful of our impartiality with respect to local government matters and to place service to the community as our first priority. The Office of the City Clerk exists to provide you with information, offer assistance and assure the transparency of our municipality's conduct of business. We are dedicated to providing excellent service – first to the public – then to the City Council and City staff – with the utmost courtesy, professionalism, and efficiency.
§  §  §  §  §  §  §  §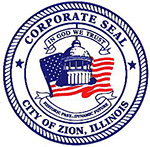 The City Clerk's Office is a vital component of the Department of Public Affairs. The City Clerk reports directly to the Mayor and is responsible for administering
the legislative duties of the City Council. The Clerk oversees the day to day operation of the Public Affairs Department. The Clerk has custody of the City Seal.
---
Sheryl Spooner- City Clerk
Mailing Address :
Zion City Hall
2828 Sheridan Road
Zion, Illinois 60099
Office Hours :
Monday – Friday
8:00 A.M. – 5:00 P.M.
Contact Us :
Fax: 847-746-7167