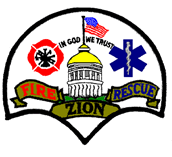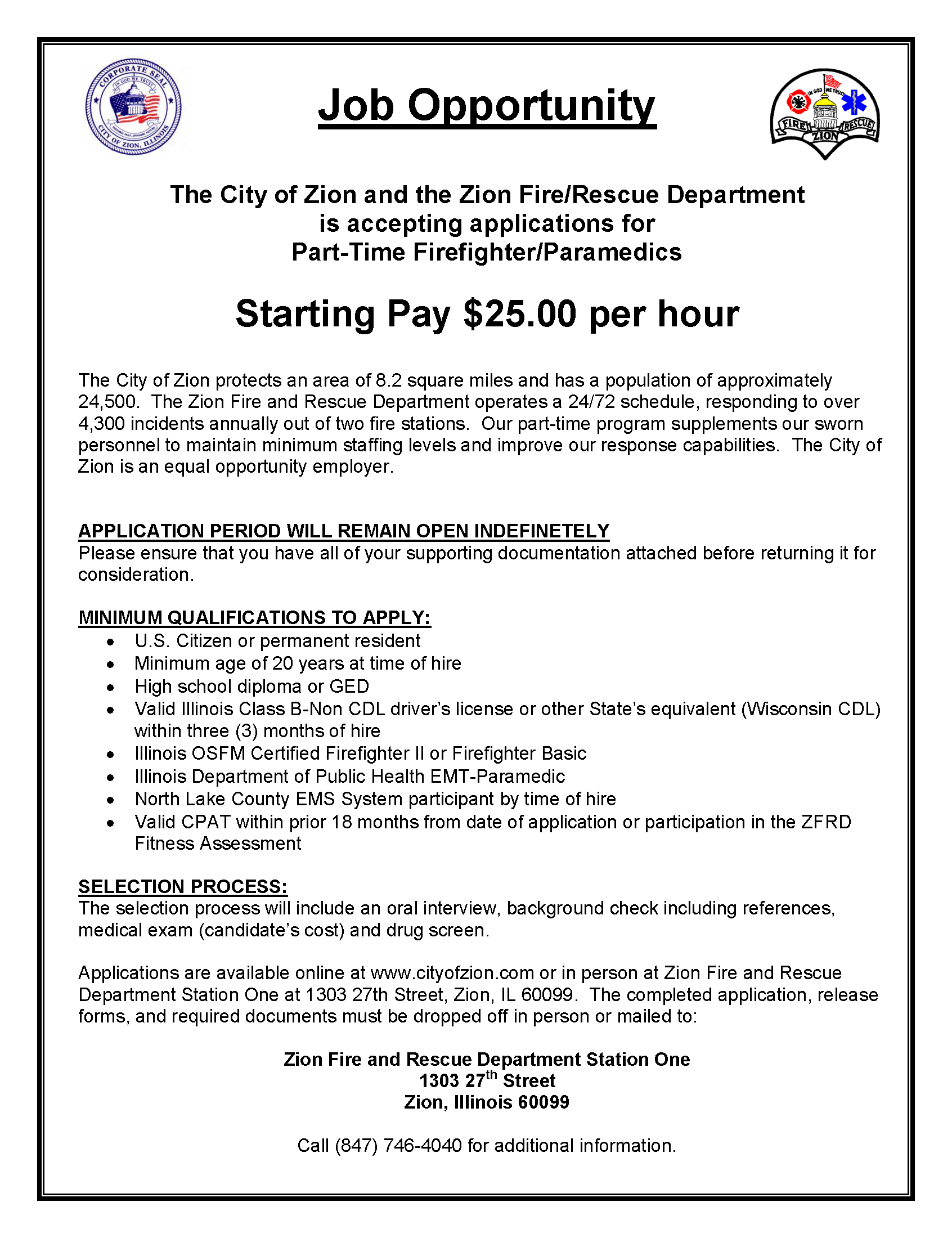 * * * * *
Our Mission Statement
"It shall be the function of the Fire and Rescue Department and the duty personnel thereof to prevent and extinguish accidental or destructive fires occurring in the city; to provide emergency medical treatment to those persons in need in the city; to transport such persons when necessary to a hospital; and to enforce all ordinances relating to fire hazards."

The Zion Fire Rescue Department is a career department consisting of 24 sworn personnel. The 24 shift personnel are divided into 3 shifts (8 per shift) working 24 hours on duty and then they are off for 48 hours. In addition there are 3 daytime personnel consisting of the Fire Chief John Lewis and Administrative Assistants Mary Hudson and Jennifer Brozek.
Keeping in line with our mission statement, The Zion Fire Rescue Department provides emergency services for fire suppression, emergency care and transport, and specialized rescue. Several of our members also participate with the Lake and McHenry County Specialized Response Team.  These team members provide specialized rescue in areas of confined space rescue, high angle rescue, structural collapse, trench rescue, dive incidents and hazardous material incidents.
In addition, our department also provides extensive public education in many areas. We offer training in fire extinguishers, fire safety including E.D.I.T.H. and Stop-Drop-Roll, and special programs every year during Fire Prevention Week.
On behalf of the Officers, Firefighters and Administrative Staff let me thank you for the privilege to be able to provide our services to the City of Zion.  If we can be of any assistance to you we always welcome questions and comments at any time. Please feel free to contact me at any time either by phone at (847) 746-4042 or send an email to johnl@zion.il.us.
Sincerely,
John Lewis
Fire Chief