Zion Fire & Rescue Department Smoke Detector Program
The ZFRD smoke detector installation program began 1/1/14. This is funded by  a FEMA grant and is intended to ensure that all eligible occupancies within the city limits are protected by a working smoke/CO detector.
Installation appointments can be scheduled by calling (847) 746-4038 during business hours, or by email at smoke_detector@zion.il.us. We are scheduling appointments for Saturday mornings.
For more information about smoke detectors, please click here.
---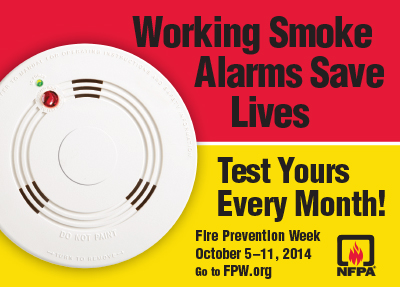 U.S. Fire Departments responded to an estimated annual average of 156,600 cooking-related fires between 2007-2011, resulting in 400 civilian deaths, 5,080 civilian injuries and $853 million in direct damage.
Two of every five home fires start in the kitchen.
Unattended cooking was a factor in 34% of reported home cooking fires.
Two-thirds of home cooking fires started with ignition of food or other cooking materials.
Ranges accounted for the 58% of home cooking fire incidents. Ovens accounted for 16%.
Children under five face a higher risk of non-fire burns associated with cooking than being burned in a cooking fire.
Microwave ovens are one of the leading home products associated with scald burn injuries not related to fires. Nearly half (44%) of the microwave oven injuries seen at emergency rooms in 2011 were scald burns.
Clothing was the item first ignited in less than 1% of home cooking fires, but these incidents accounted for 16% of the cooking fire deaths.
---
---
City of Zion ISO rating drops to 4 from 5!
About ISO Ratings:
ISO's Public Protection Classification (PPCTM) Service gauges the capacity of the local fire department to respond if flames engulf a property in which your company has a financial stake… Read More