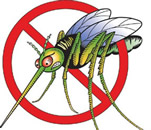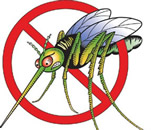 The City of Zion contracts with Clarke Environmental Services for mosquito management.  The service includes monitoring and adult mosquito fogging applications.
Currently, the City contracts for two city-wide applications per year:  one prior to July 4th and one prior to Labor Day Weekend.  Treatments are performed in the evening, between dusk and dawn, weather conditions permitting.  Should weather conditions prevent the application, the application will be made the next day that favorable weather conditions exist.  Additional treatments are applied on the evenings prior to the July 4th and Jubilee Days celebrations in the downtown area only.
Spraying Notifications
The City of Zion notifies residents that a spraying will occur in advance of the spraying so those with sensitivity may take the appropriate precautions.  If you participate in the City's CODE RED public notification system, you will receive a message notifying you of any scheduled fogging applications.  If you have not previously signed up for the City's CODE RED notification system and would like to participate, click here.
You may also call 847-746-4012 to have your name added to the City's call list.  Residents on this call list will receive a personal call from the Public Affairs Department notifying you of any upcoming spraying.
Clarke's Mosquito Hotline (800) 942-2555
Residents may call Clarke's Mosquito Hotline for information regarding spraying.  Clarke will call residents who must be notified before spraying takes place.
Homeowner Prevention
Clarke Environmental Services offers information regarding prevention and control homeowners may use to help control mosquitoes on their property.  Visit www.clarke.com.
Prevent Mosquito Bites
To help prevent mosquito bites:
Use insect repellent with DEET or Picaridin.
Avoid being outdoors at dawn and dusk.
Wear light colored clothing and long sleeves.
Get rid of any stagnant water on your property (gutters, bird baths, planters, etc.)