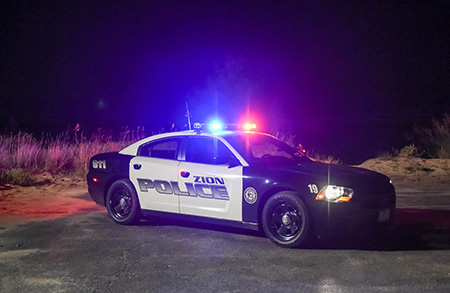 MISSION STATEMENT
We are currently reviewing and rewriting our mission statement to more
effectively communicate our purpose to officers and citizens alike.
ABOUT THE DEPARTMENT
The Zion Police Department is comprised of 47 sworn officers, 9 dispatchers, 5 full-time and several part-time civilian employees, all under the direction of Chief Kirk Henderson.
The Police Department is divided into 2 divisions, Operations & Administration.
The Operations Division consists of;
Patrol

– Sworn officers assigned to Patrol respond to all calls for service, emergency and non-emergency, and are the most visible members of the department.

Community Services

– Civilian employees, assigned as Community Service Officers (CSOs), provide a wide variety of services to the community and the department.  Services such as traffic direction, motorist assistance, parking enforcement and animal complaints.
The Investigations Division consists of:
Investigations

– Sworn officers assigned to Investigations as Detectives are responsible for conducting in-depth investigations into criminal complaints ranging from financial crimes, drug crimes to crimes of violence.

Records

– civilian employees who are responsible for processing all reports and citations and providing walk-in service for the department.
The department also has a Police Canine Unit, Ofc. Rob Ogden and his K-9 partner, Knox. The Police Canine Unit was established in 2010 and has been fully funded by a private foundation since its inception. Ofc. Ogden and Knox are assigned to the Patrol Division.
Chief Kirk Henderson
Zion Police Department