IMPORTANT NOTICE
Effective December 20, 2014, the City of Zion no longer accepts electronics for recycling.
Public Act 97-0287, Electronic Product Recycling and Re-use Act became effective on 1/1/2012.
This state statute banned most electronic products from Illinois landfills. More info below.
Zion residents are reminded that it is a violation of the Electronics Recycling Act to place electronics in the regular trash and may result in a fine to the owner. Advanced Disposal will not empty a trash or recycling cart containing an electronic product. It is up to the resident to dispose of the items in a responsible manner
Residents are also reminded that it is a violation of the Zion Municipal Code (section 74-403) to dump trash or litter on private or public property without the property owner's consent. Violators will be fined up $750 per occurrence.
Currently, the City of Waukegan Public Works is the closest site for electronics recycling.
For alternative options for electronics recycling, please visit SWALCO by clicking here.
ELECTRONIC PRODUCTS BANNED FROM ILLINOIS LANDFILLS
On January 1, 2011, revisions to the Electronic Products Recycling and Reuse Act (415 ILCS 150/) take effect.
If the trash collection driver observes any of the listed products in a trash container, the container will be tagged and not emptied. The resident will be required to remove the product from the container, and the container will be emptied on the next regularly scheduled trash collection day. Collection trucks will not return for a second pickup on the same day.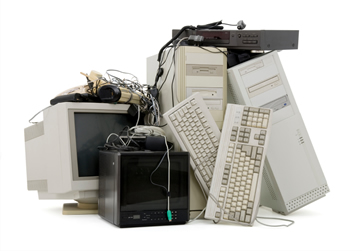 Illinois state law provides for fines of up to $50 for placing items listed below in the trash. The Zion Municipal Code provides for fines of up $750 for dumping items along roadways, in alleys, etc.
The following is a list of items that are accepted and not accepted at electronic collections. Items that are prohibited by State law from being disposed in the trash are underlined.
ACCEPTED ITEMS
Televisions, Monitors, Printers, Computers (including tablet computers), Electronic Keyboards, Facsimile Machines, Videocassette Recorders, Portable Digital Music Players, Digital Video Disc Players, Video Game Consoles, Small Scale Servers, Scanners, Electronic Mice, Digital Converter Boxes, Cable Receivers, Satellite Receivers, Digital Video Disc Recorders, Computer Drives, Modems, Mainframes, PDA Organizers, Telephones, Stereos, CD Players, Cameras, Shredders, Small Household Appliances, Holiday Lights, Microwave Ovens, Alkaline Batteries, Non Rechargeable and Rechargeable Batteries.
IMPORTANT NOTE ABOUT BATTERIES
Alkaline batteries, non rechargeable and rechargeable batteries will only be accepted from individual residents
Common household batteries that are accepted include:
Alkaline Batteries: AA, AAA, C, D and 9V
Long Life Non-Rechargeable Batteries: Lithium, Zinc-air, Silver-oxide (common button cell batteries)
Rechargeable Batteries: Nickel Cadmium (NiCd), Nickel Metal Hydride (NiMh), Lithium Ion (Li-ion), Small Sealed Lead Acid
To avoid the risk of cross contact of battery terminals that can result in sparking and possible fire; residents must place a piece of household type tape over the contact points on each rechargeable battery or place each rechargeable battery into a self-locking plastic baggie (one rechargeable battery per bag).
HOLIDAY LIGHTS
All electronics collection locations accept holiday lights year round. Light bulbs may remain on the strings. We do not collect decorative items such as wreaths, lawn figurines, trees, etc. that have strings of lights attached.
Items NOT Accepted
Broken Glass, Air Conditioners, Dehumidifiers, Large Household Appliances, Lead Acid Batteries, Electric Fixtures, Fluorescent Light Bulbs, Compact Disks, Software Disks, Tapes, Liquid or Chemical Waste, and Packaging Materials.
---
If you have questions regarding recycling or disposal of other items not found on this page,
please contact the Solid Waste Agency of Lake County (SWALCO) at 847.336.9340 or visit www.swalco.org.