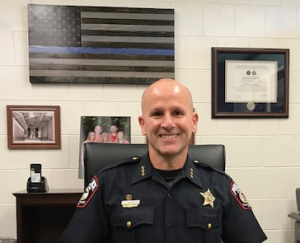 Welcome to the Zion Police Department's website and thank you for taking an interest in our department. The purpose of this website is to provide our residents and visitors information about the department, services provided and helpful links for useful information.
I was appointed as Chief of Police on June 4, 2019. I have been an officer with the Zion Police Department for over 27-years. After all that time, I can still say that being a police officer in the City of Zion has been truly satisfying and an opportunity that I am extremely grateful for. I have had the privilege of working in almost every capacity in the department in those 27-years. From Officer, School Resource Officer, Detective, Sergeant, Lieutenant, Deputy Chief and now, Chief of Police.
I am extremely proud of the men and women of the Zion Police Department and the work they do in and for our community. Working with others, I plan to build on our strengths and identify and improve on our weaknesses.
My goals for my first year as Chief are as follows:
Develop a new department mission statement. (completed Nov 2019)
Identify the department's core values. (completed Sept 2019)
Analyze the department's current policing model and select an effective model to produce better results. (completed Dec 2019 –
Neighborhood Policing chosen as the department's new policing model)
Expand the department's patrol districts/beats from three to four to better distribute calls for service and more effectively deliver policing services in each district/beat. (completed Jan 2020)
Plan and procure Starcom21 radios to replace our aging and troubled radio network. (completed July 2020)
Thank you for the opportunity to serve as your Chief of Police and for your interest in the Zion Police Department.
Kirk Henderson
Chief of Police
847-746-4103