Commissioner of Police and Fire/Rescue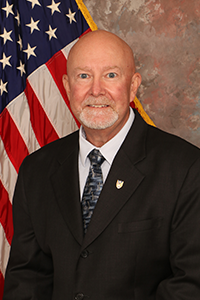 Zion is Mike's hometown and he graduated from ZBTHS in 1978. After High School he then went on to complete both undergraduate and graduate degrees including an MA and PhD in religion and society. Mike has been married to Donna since 1980 and they have three children and four grandchildren.
Mike and his family lived and worked in Asia for 14 years and came back to the beautiful City of Zion in 2000. Mike is currently one of the pastors at Christ Community Church in Zion.
Mike served as a Public Safety Officer on a college campus while studying in Chicago and had the unique opportunity to serve as a Warden (information and emergency preparedness) for the US Embassy in Manila.
In terms of local civic involvement, Mike served on the boards of the Coalition for Healthy Communities and Community Resources for Education and Wellness. He also served for 10 years as a Commissioner for the Zion Park District and was the President of the Board. He also served as Police and Fire Commissioner for the City of Zion
Currently Mike serves on the boards of the Family Resource Center of Zion and the Zion Historical Society. Mike is the current President of the Zion-Benton Ministerial Association and proudly serves our men and women in uniform as Chaplain for the Zion Police Department.