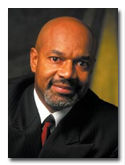 Billy McKinney is the 18th Mayor of the City of Zion. The McKinney family planted roots in Zion in the summer of 1962. Mayor McKinney attended Elmwood School, Central Middle School, and was a 1973 Honor Roll student and graduate of Zion-Benton Township High School.
At Zion-Benton, McKinney starred in basketball and baseball and was selected as an All-State performer in both sports. McKinney also played football, ran cross-country, and was part of the gymnastics club. In the Spring of 1973, McKinney led an undersized, but quite talented Zee Bee team to the school's first ever win of a Regional Basketball Championship game against archrival North Chicago. Upon graduating from ZBTHS, McKinney was offered and accepted a full athletic scholarship to play basketball and baseball at Northwestern University in Evanston, Illinois. While at Northwestern, McKinney led the team in scoring steals and assists, was named the team's MVP for 3 consecutive seasons, was an All-Big 10 performer for 3 consecutive seasons, and was recognized as an All-American player by most media outlets. The Wildcats honored Mayor McKinney in his final game of his college career by establishing the Billy McKinney Award, which is awarded annually to a Northwestern student-athlete who exemplifies McKinney's traits of Leadership, 110% Effort, and Positive Mental Attitude. McKinney completed his final year of collegiate basketball as the leading scorer in Northwestern University history, a record that stood for 36 years.
After leaving Northwestern University, Mayor McKinney worked for the National Basketball Association (NBA) for 39 years in various team and leadership capacities. Mayor McKinney worked as a professional athlete for the first seven years and using the same skill sets of leadership, 110% effort, and positive mental attitude, he transitioned into leadership with the NBA as a Front Office Executive for 32 years. His playing career took him to the cities of: Kansas City (Kings), Salt Lake City (Utah Jazz), Denver (Nuggets), San Diego (Clippers), and back to Chicago to finish his career with the Chicago Bulls. After retiring from playing, McKinney's versatility, likeability, professional demeanor, and business acumen catapulted him into the front office management with the Chicago Bulls, where he became the first African American executive in the history of the organization. While in Chicago, McKinney was instrumental in the drafting of Bulls' legends, Scottie Pippen and Horace Grant and building the initial Championship team. McKinney's management career consisted of positions as General Manager for the Minnesota Timberwolves, Detroit Pistons and the WNBA's Seattle Storm. He also served as Assistant Vice President of Basketball Operations with the Chicago Bulls, Executive Vice President of Basketball for the Seattle Sonics, and Executive Vice President of the Seattle Sonics and Seattle Storm. In addition, Mr. McKinney spent the final nine years in the NBA as the Vice President of Scouting for the Milwaukee Bucks, where he was instrumental in the drafting of two-time NBA MVP Giannis Antetokounmpo, and Rookie of the Year, Malcolm Brogdon.
Mayor McKinney still holds the NBA Rookie Record for most consecutive field goals made in a game (14) without a miss. Bailey Howell and Wilt Chamberlain are the only two players in NBA history to record more consecutive field goals made in an NBA game without a miss.
Mayor McKinney also belongs to a select group of NBA rookies that finished their rookie debut with 20 or more points while shooting over 70% for the game. The unique cast of characters include:
Zion Williamson, New Orleans Pelicans
Steve Smith, Miami Heat
Ron Anderson, Cleveland Cavs
John (Hot Rod) Williams, Cleveland Cavs
Gordan Giricek, Memphis Grizzlies
Billy McKinney, Kansas City Kings
According to NBAStats.com, Mayor McKinney also is in an exclusive group of 4 NBA rookies to have the most efficient overall games in NBA history. This select group of Ja Morant, Brandon Knight, Joe Meriweather and Mayor McKinney is the only group of rookies to score 25 or more points, dish out 5 or more assists, and shoot over 90% from the field. Mayor McKinney also grabbed 6 rebounds during this historic effort.
Throughout McKinney's three-decade tenure in executive roles with NBA teams, he has successfully developed and negotiated international business contracts and partnered with colleagues, business professionals, and competitors to achieve goals, build solid business relationships, and represent not only his organization, but all of the fans who supported his teams. His experience in working with teams and building organizations has benefited people and organizations at home and around the world. In addition to his position with the NBA Seattle Sonics, McKinney also served on the board of Junior Achievement, the YMCA of Bellevue, and the Seattle Sports Commission.
Throughout his tenure in college and the NBA, Mayor McKinney continued to be active in the community affairs with the City of Zion. In addition, he has served on leadership boards of many local and national organizations including: Big Brothers/Big Sisters, The Boys & Girl Club, The Urban League, The United Negro College Fund, Easter Seals, the ZB High School Board, Scouts of America, and the Marillac House in Chicago.  In 1983 he was honored by former Mayor Everline with the key to the city, and May 27th was declared to be Billy McKinney Day in Zion.  McKinney has also been a sought-after public speaker and has shared his vast professional and personal experiences for many years to a myriad of small, mid-size, and large companies. Some of his topics have been on leadership, creating a successful life, teamwork, building the proper work environment, developing new business sales, and how to overcome adversity, to name a few topics. Some of Mayor McKinney's clients are ServiceMaster, the University of Michigan, General Mills, Honeywell, The Waukegan Yacht Club, Ethan Allen, Prudential Life Insurance, Washington Decca Youth Leadership Institute, the Minnesota Special Olympics. Mayor McKinney continues to be an active speaker throughout the Zion school systems, and to many of the is seen frequently speaking at the schools in Zion, and to many of the local organizations throughout the City of Zion.
While serving as the Commissioner of Building, Property and Zoning, McKinney worked with the Building Department and other Commissioners to implement the current rental house certification program, which ensures that life and safety issues are monitored and repaired to protect the safety of its citizens. In addition, his work with the building department personnel revived the City of Zion Clean Up Days where he partnered with the City to enlist the help of residents and volunteers in effort to restore pride natural beauty of the city's neighborhoods in effort to build a better, stronger and safer community.
Since being elected Mayor of Zion in 2019, McKinney was immediately appointed as the Board Member for the Lake County Land Bank, Vice President of the Coalition for Healthy Communities, Commissioner and Executive Board Member of the Lake County Community Housing Development Commission, and the Lake County Council of Mayors. Mayor McKinney's tireless work through the Community Housing Development Commission has been instrumental in securing grant funds for the City of Zion to demolish two of the biggest and longed standing eyesores in Zion, the Munder Building in the 2700 block of Galilee and the Helia Building across from Central Middle School. In July of 2021, Mayor McKinney was appointed to the prestigious position as the Chair of the Mayors Commission on Water Equity, a bi-National organization that consists of over 135 coastal cities throughout the U.S and Canada. This particular commission is working closely with the President Biden's administration to receive funding through the recently passed Infrastructure Bill to focus on the challenge of clean and affordable water to citizens, solutions to urban flooding, replacement of lead from water, replacing lead pipelines, and creating job opportunities for minorities in the water workforce. McKinney was instrumental in working with County officials and private entities in securing and ensuring the proper distribution of COVID-19 vaccines for Lake County residents.
Some would say Mayor McKinney's most significant accomplishment in his first two years of office is working with Dave Knabel, City Administrator and State Reps, Joyce Mason and Sam Yingling to secure $15 million in annual payments for the nuclear spent fuel rods that have sat on the Zion lakefront since the Zion Nuclear Plant was shuttered in 1998. He was recognized by the Zion City Council for these efforts.
Mayor McKinney is a longtime resident of Zion. In his spare time, he loves to watch movies, listen to music, ride his bicycle or walk throughout the City of Zion with his Chocolate Lab, Murphy, play golf at the local public courses, mentor kids, and watch the ZB athletic teams perform.