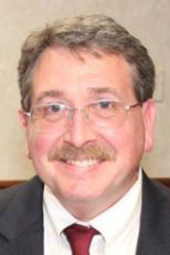 Commissioner of Accounts & Finance and Mayor Pro-Tem
Christopher Fischer was born in Kansas City Missouri, and is the eldest of four boys. Later the family moved to Indiana, where he attended and graduated from Plainfield High School in 1982. He exhibited particular talents in the fields of Art, History, Literature, and Theater.
After high school he joined the Army, trained as a Military Intelligence Analyst, and then was deployed to West Germany to serve with the 103rd Military Intelligence Battalion. While stationed there, he met and served with Christie Thomas, also from Indianapolis. After their enlistments were completed they married, and recently marked their 30th Anniversary.
Based on his military and intelligence credentials, he went into the field of professional security for the next decade, working with contract and in-house clients in the role of supervisor or account manager. During this time he also spent two years working third shift and going to school during the day to earn an Associate Degree in Advertising Design.
In 1995, the couple bought their house in Zion, where they still reside. The following year, he was offered the opportunity to work at the American Medical Association in Chicago to supervise the day-to-day operations of their security staff. Soon the AMA offered him a full-time position in their Human Resources unit, which eventually became his current position as a Human Resources Information Specialist.
Over the past several years, his interests have become focused on the interrelated areas of Public Policy, Politics, and Governance. He served for several years as a Lake County Election Judge. From 2013 to 2017 he served as a Trustee on the Board of the Lake County Public Water District, which provides water to the communities of Zion, Winthrop Harbor, and the Illinois State Beach Park.
Acting on the idea that a healthy democracy requires direct engagement and a serious commitment to public service he ran for the office of Commissioner in 2013, then again in 2015, and was successfully elected as Commissioner for the City of Zion on April 4, 2017.