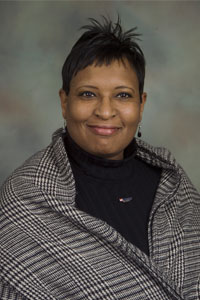 COMMISSIONER JACQUELINE HOLMES
Commissioner of Public Works & Engineering
(847) 746-4012
JacquelineH@zion.il.us
My name is Jackie, and I was born in Zion. I graduated from Zion-Benton Township High School, and I am a graduate of Zion-Benton Leadership Academy. I earned a Bachelor's degree in Business Administration and a Master's degree in Public Administration, and I previously served as a Trustee on the Zion-Benton Public Library board where I "earned my wings" and continued to gain knowledge of and appreciation for the importance of transparency in government.
I am proud to have served as a Parent Mentor volunteer for HACES (Hispanic American Community Education Services) where I volunteered at Beulah Park Elementary School. My background also includes working as a Legislative Aide and Jr. Legal Secretary for State Senator Adeline Geo-Karis.
Vision is the driver of progress, and I am honored to be of service to my community. In my free time I enjoy spending time with family, playing volleyball and keeping up with my Labrador "Blue".
Please join me in celebrating the uniqueness of Zion!