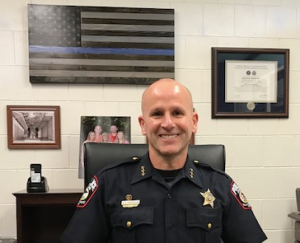 Welcome to the Zion Police Department's website and thank you for taking an interest in our department. The purpose of this website is to provide our residents and visitors information about the department, services provided and helpful links for useful information.
I was appointed as Chief of Police on June 4, 2019. I have been an officer with the Zion Police Department for over 27-years. After all that time, I can still say that being a police officer in the City of Zion has been truly satisfying and an opportunity that I am extremely grateful for. I have had the privilege of working in almost every capacity in the department in those 27-years. From Officer, School Resource Officer, Detective, Sergeant, Lieutenant, Deputy Chief and now, Chief of Police.
I am extremely proud of the men and women of the Zion Police Department and the work they do in and for our community. Working with others, I plan to build on our strengths and identify and improve on our weaknesses.
We can, and we will be, even better. As Chief, I will prioritize the following values:
Safety. Actions and activities that the department takes will prioritize the safety of citizens and officers. From the issuing/wearing of safety equipment to supervising police pursuits/arrest tactics and other operations to minimize risk and reduce injury.
Professionalism. Police officers are entrusted with authority by the citizens they serve and MUST always behave and act in a professional manner, regardless of the circumstances. This is our goal, our target. Officers are human too and sometimes we will fall short of this goal or miss the target. When we do, we will acknowledge that, correct the mistake and get back on track.
 Hard Work. As police officers, we earn a good living. The community we serve, the tax payers who pay our salaries deserve a commitment to hard work. Promptly responding to calls, working diligently to record facts and follow up on leads and working proactively to prevent crime when not actively investigating a crime are all examples of the hard work citizens can expect.
Team Work. We will work collaboratively both within the department and within the community. No one person or agency/organization has all the answers. We will seek to benefit from each other's skills and areas of expertise to better address the needs of the department and the community.
Thank you for the opportunity to serve as your Chief of Police and for your interest in the Zion Police Department.
Kirk Henderson
Chief of Police
847-746-4103