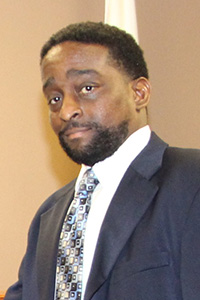 Richard is a native of Lake County. He spent many of his formative years living in South Carolina. He returned to Waukegan to attend high school. Richard graduated from Waukegan HS in 1997. Since that time he's worked to establish a family and a career in Information Technology.
Richard is married with 2 children. His wife Shanta, is also a graduate of Waukegan HS and his children have grown up in the Zion School Districts. They now attend ZBTHS.
The College of Lake County has served as great resource for Richard. He received his training for A+ certification. Shortly after completing training to work in computer hardware, he decided that software development was going to be a better fit. Richard took a non traditional approach into software development and has been working as a Software engineer for the last 6 years.
Richard began his career with Grainger in 1999 and has worked in several different areas of the business. In each area his focus has been on software development, information technology and analytics.
Richard currently serves as co-chair for the Zion Minority Caucus. A local organization created to empower citizens that feel unheard to find their voice and use it constructively for the betterment of Zion. He's a recent graduate of the Zion Benton Leadership Academy and a member of a newly formed Citizens advisory council.
In his free time, Richard enjoys cycling, photography, reading, and traveling with his family. He's also a fan of comedies and documentaries.