Commissioner of Public Works & Engineering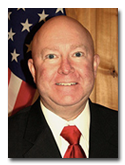 Zion is Mike's hometown. He graduated from ZBTHS in 1978. After college Mike went on to earn both masters and doctoral degrees in education, religion and sociology. He married Donna in 1980 and they have three children who are all married, and yes, they have grandchildren.
Mike and his family spent 14 years in Asia as missionaries before returning home to Zion in 2000. Mike has been the mission pastor at Christ Community Church in Zion since then.
Mike is coming to the city after having served 10 years as commissioner for the Zion Park District where he was president of the board. Mike was a board member for the Coalition of Healthy Communities, and a founding board member for the Family Resource Center of Zion. He also serves on the board of the Zion Historical Society and is a member of the Zion-Benton Ministerial Association.